20 Ho Jack Park
Rochester, NY 14612
585-342-1220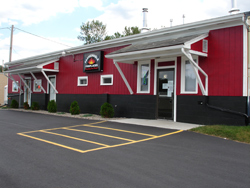 Come see our newly remodeled showroom with over 30 fireplaces on display!
We carry a full line of gas fireplaces, wood stoves, grills, mantles and more, that we sell below list price, which assures that you get the best pricing available. Many of our fireplaces are up to 93% efficient. Come in to Fashionable Fireplaces today to find the best one for you!
Our company is dedicated to giving our customers the best prices as well as excellent customer service. If you choose to install yourself, we are here for you to work with you throughout the installation. Our mission is to provide our customers with the highest quality fireplace, at the lowest price possible. We do all of our own installs and nothing is ever contracted out to other companies.
Our Recent Offers:
Free portable pellet tail gate grill with purchase of fireplace and installation.
Cannot be combined with
any other offer.
Expires April 30, 2015
Free stainless steel vent kit for wood inserts ONLY...up to 35 feet
Cannot be combined with any other offer. Expires April 30, 2015 (does not include insulated pipe)
Why buy from us? Here are a few reasons:
Family owned and operated in Rochester for over 30 years
We are NFI Certified.and fully insured
We have something for every budget
Over 30 working display units
We guarantee the best price
Very knowledgeable sales staff
We offer the highest quality products
We do 100% of our own work, no subcontractors
A plus rating with the BBB
Member of the BCB